We have three halls located directly at the river.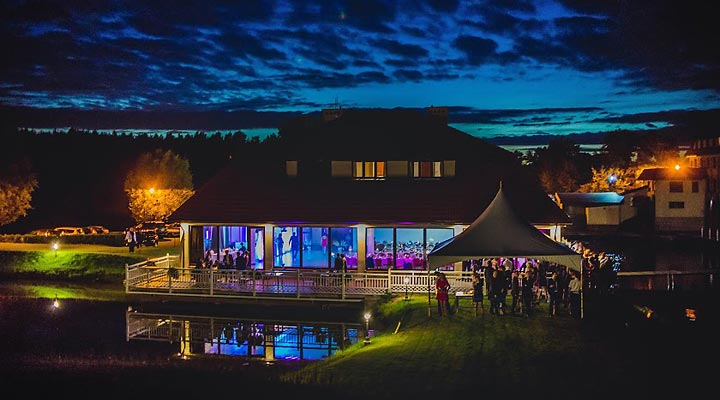 The first dining room, with a terrace, is perfect for organising private parties as well as two banquet halls, for single or combined use.
Interestingly arranged area around the guest house offers many possibilities for organizing outdoor parties.
Each offer is prepared for you individually, depending on your needs and expectations.
We organise First Communion receptions, baptism celebrations, birthday parties and anniversaries.
Below you can find exemplary menus for receptions:
First Communion receptions, baptism celebrations and anniversaries:
Price of the set PLN 180/person
Menu I
1st dish
Cream of broccoli soup served with bacon chips
Pork tenderloins in mushroom sauce, roasted dumplings, salad with fresh vegetables
2nd hot dish:
Grilled salmon in dill sauce, boiled potatoes, boiled vegetables
dessert:
Vanilla ice cream served with hot raspberries
cold snacks:
plate of roasted and smoked meats
Warsaw pork roast
Nicoise salad with tuna
salmon tartare
salad with grilled chicken breast on lettuce
Greek salad
Menu II
1st dish
Broth / Tripe
Grilled chicken breast in pesto sauce, baked potatoes, fried beetroots
2nd dish
Pikeperch in thyme sauce, served with boiled potatoes and boiled vegetables
Dessert:
Apple pie served hot with vanilla ice cream
snacks:
chicken roulade with mushrooms in aspic
Greek salad
Herring in three different flavours
Salad with smoked chicken
plate of roasted and smoked meats
tomato caprese
Menu III
1st dish
cream of tomato soup / Tripe with oyster mushrooms
Chicken breast roulade stuffed with feta cheese and sun-dried tomatoes, roasted tomatoes, salad
2nd dish
Ribs baked in honey and mustard marinade, potatoes, salad with fresh vegetables or beetroots
cold snacks:
duck in aspic served with cranberries
Nicoise salad with tuna
plate of roasted and smoked meats
salad with smoked chicken
Greek salad
herring in three different flavours
Each menu includes:
Buffet with coffee and tea
Home-made cake
filleted fruits
beverages: water and juices served in jugs, coca cola, fanta, sprite (without limitations)
Gala dinner
Package price PLN 160 / person
Menu I
Hot dishes:
Cream of potato soup
Chicken breast in mushroom sauce, roasted dumplings, salad
Cold snacks:
Greek salad
Board of cheese and cold meat
Herring in three different flavours
Caprese with tomato in pesto sauce
Menu II
Hot dishes:
Chicken soup with noodles
Grilled salmon in dill sauce, boiled potatoes, boiled vegetables
Cold snacks:
Plate of roasted and smoked meats
Vegetable salad
Greed salad
Trout chaudfroid
Each menu includes:
Buffet with coffee and tea
Home-made cake
filleted fruits
beverages: water and juices served in jugs, coca cola, fanta, sprite (without limitations)
Dinner
Price: PLN 70 / person
Menu I
Hot dishes:
Traditional Polish sour rye soup
Pork chops, baked potatoes, salads
Dessert:
Apple pie served warm with vanilla ice cream
Buffet with coffee and tea
Juices and water served in jugs without limitations
Menu II
Hot dishes:
Chicken soup with noodles
Pork neck roast in its own gravy, fried beetroots, Silesian dumplings
Dessert:
Ice cream cup
Buffet with coffee and tea
Juices and water served in jugs without limitations
Supper
Price: PLN 60 / person
Menu I
Hot dishes:
Broth
Chicken roulade stuffed with cheese and mushrooms, baked potatoes, salads
Buffet with coffee, tea and cake
Juices and water served in jugs
Menu II
Hot dishes:
Traditional Polish sour rye soup
Pork chops, baked potatoes, salads
Buffet with coffee, tea and cake
Juices and water served in jugs
Outdoor reception with a barbecue:
proposed dishes served from grill (optional):
pork neck,
sausage,
black pudding,
bacon,
skewers,
chicken breast,
potatoes with garlic wrapped in foil
chicken wings,
trout fillet
additions and salads:
spring greens salad
spring salad
pickled cucumbers
mustard
ketchup
horseradish
garlic sauce
breadstuff
beverages:
juices and water
price from PLN 50-70 / person (the price depends on the menu, end of barbecue at 24.00)
Reception can take place in the restaurant or in the banquet hall (depending on the number of guests)
It is possible to replace dishes and snacks from other menus and to choose other dishes from our current menu (individual calculation)
At your request, we can order a cake and to add vegetarian dishes or those intended for children to the menu
Exemplary dishes for children:
Broth
Tomato soup
Breaded chicken pieces with chips
Pancakes with cottage cheese covered by chocolate